A Leader in the Sintered Friction Material Industry
American Friction Technologies (AFT) was established in 1996 and has become a leader in the sintered friction material industry. AFT is the largest North American producer of sintered metallic brake pads for the power sports industry. In addition, we are a major manufacturer of ceramic clutch buttons.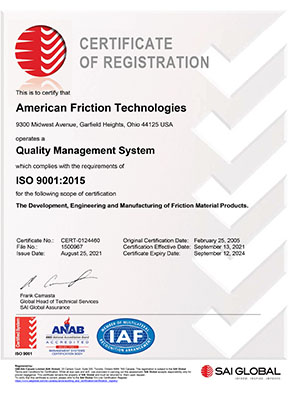 AFT customers benefit from our expertise which results in rapid turn around of prototype samples, increased manufacturing efficiency, and short production lead-times. Offering these core benefits to our customers has cultivated AFT's continued growth.
AFT builds quality into each phase of the manufacturing process. Our advanced manufacturing technology coupled with an ISO 9001:2008 Certified Quality Management System ensures consistent product performance.

AFT is committed to the development, engineering and manufacture of high quality friction material products that consistently meet product specifications and provide the highest level of customer satisfaction.