Sintered Metallic Brake Pads
Sintered Metallic is the friction material of choice in high energy applications such as brake pads. The advantages of sintered linings include superior performance, improved fade resistance, enhanced wet-effectiveness, and extended life. In many instances, these benefits allow for the utilization of compact, more efficient braking systems.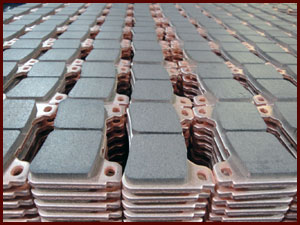 Our friction materials range from mountain bike brake pads to high speed trains. We customize each formulation to meet our customers' specific application.

Mountain Bike
Due to the compact size of these brake systems and the extreme energies they need to absorb, the optimum friction material is sintered bronze. We specialize in materials that exhibit high coefficients of friction while minimizing brake noise.

Dirt Bike / ATV / UTV
Mud, dirt and sand can easily wear out organic and semi-metallic brake pads. The tough off-road environment these vehicles encounter warrants the use of sintered bronze friction materials. Only sintered bronze can hold up in these conditions while providing superior braking performance.

Motorcycle
In today's market, 180 MPH high performance sport bikes and heavy weight cruisers both require the ultra high temperature capability of sintered bronze brake pads. We manufacture the preferred friction materials for the motorcycle road racing circuit.